I choose today to give myself permission to NOT do the 31 days after all. This week I sat down with the calendar my sister gave me for my birthday and put in all the events and activities. I got tired looking at that!!
I went to my go-to girls for some wisdom because, quite frankly, the project was looking like a huge millstone around my neck, one I could easily take off. They helped me take it off! I love those ladies!
A month in the life of a crazy farmer/pastor's wife:
* 4 day pastor retreat (always a wonderful time)
* 2 day family reunion on the Thanksgiving weekend
* 5 days for Allume (incuding travel – SO EXCITED!!)
* 3 days for specialist appointments
* all the regular activities that 5 kids are involved in
THEN, we got our new math curriculum from our cyber school and I don't know how to use it so I've got to get that figured out, too. I am also on an intense regime related to some health issues that is leaving me just a little irritated and very draggy. I'm a little scared I might write toxic waste!!
Here I am with more days gone than at homeand 31 days just seemed like a little too much pressure…so I'm going to write that novel, it might take more than 31 days to get it up here on the blog…but the timing is just not for right now!! I am giving myself some grace.
I choose to NOT do this right now and I am okay with that…
Do you need to choose to NOT do something? Sometimes we sign up for unnecessary stress because we feel pressured by ourselves or someone else. Can you give yourself some grace today? I'd love to hear about it!
I want to throw in some gratitude because it is Monday and a good day for remembering what I'm thankful for.
#2009 – Debi, Nancy, Tina, Katharine, Lorretta, Shannon and Donna what would I do without you!
#2010 – our harvest is all in, BEFORE the big rain came
#2011 – I am thankful for the math curriculum that came because it means there is another class that is not online
#2012 – the opportunity to sit again with my husband and plan our days
#2013 – a washing machine that works again!! thank you Tony
#2014 – the 30 some women who have signed up for the Beth Moore study that starts this week – we're going to be Breaking Free
#2015 – all these supplements that are going to get my body into a healthier place
#2016 – grace for the hard places
#2017 – for Vanguard ministries, another little group of Jesus-lovers bringing Light into dark places
#2018 – a daughter with a heart for the disadvantaged
#2019 – family nights that aren't a fight
#2020 – Holley Gerth's new devotional book
{\rtf1\ansi\ansicpg1252
{\fonttbl\f0\fnil\fcharset0 HelveticaNeue;}
{\colortbl;\red255\green255\blue255;\red85\green85\blue85;\red238\green238\blue238;}
\deftab720
\pard\pardeftab720\sl360\sa400\partightenfactor0
\f0\fs20 \cf2 \cb3 \expnd0\expndtw0\kerning0
\outl0\strokewidth0 \strokec2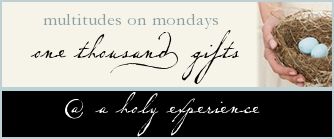 }